Rooftop mechanical and electrical systems are very sensitive to wind and seismic damage. Rooftop anchoring is vital for the protection of systems including: pipe, conduit, cable tray, duct and equipment.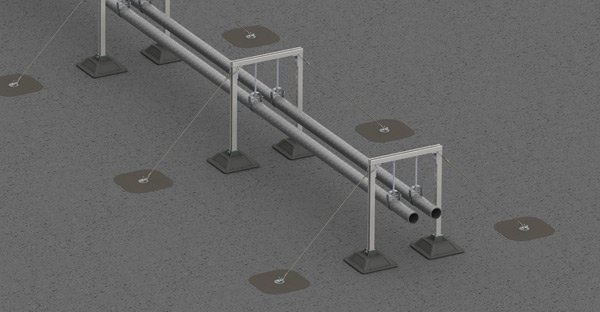 ---
BENEFITS OF NVENT'S TELESCOPING PIPE STAND
The nVent CADDY Rooftop Anchoring System is a complete solution designed to save time and money. As a whole, it is comprised of four elements:
1. Pyramid Anchors
Pyramid Anchors are designed to be the best anchor in the market. Because of the membrane sealing process, the system matches the original membrane, preserving the manufacturer's warranty when installed with a certified installer. The process is also significantly easier to install, especially when compared to full roof penetration stanchions and ballasting. Both are labor intensive and ballasting requires moving heavy objects in a restricted access environment. Ballasting also adds weight to the structure and is potentially harmful to the roof surface or the structure. The membrane patch attaches directly to the existing membrane, and only requires simple, common tools.
2. Pyramid Rooftop Supports
Rooftop supports provide additional value by offering complementary products for rooftop installations. Pyramid rooftop supports are a surface mounted solution for supporting electrical and mechanical applications, including equipment, on a variety of roof surfaces. Pyramid supports offer the advantages of superior load distribution and load capacity. The interior of the product is engineered for even pressure on rooftop surfaces, limiting damage and maintaining membrane warranties. Foam and rubber versions are available
3. Engineering Services
Engineering services are crucial to ensure that the installation is completed up to the required safety standards (IMC 303.4/303.8 & ASCE-7 Ch 26/29). nVent CADDY offers design and layout services that can provide a PE stamp in all 50 US states. This eliminates the need to hire a separate engineer, simplifying the design process. nVent CADDY rooftop anchors can be secured with minimal intrusion and the resealing process prevents water intrusion and matches the warranty of the existing membrane.
4. Cable Bracing Products
nVent CADDY also offers a full range of highly adaptable bracing services to a rooftop. Cable is available in stainless steel for superior corrosion resistance.
---
CONCLUSION:
nVent CADDY offers a complete solution for bracing rooftop services designed to save time and money. Learn more by clicking the link below: