RUBBER-LINED PIPE CLAMPS:
Rubber-lined pipe clamps are common for installation of single runs of medium- and large-diameter pipe. Many options are available, but most look and behave alike. Pipe clamps that lack less-obvious but key features may force contractors to spend hours reworking installations. Labor is often the largest expense associated with pipe installations, and the price can quickly increase if unplanned work is required.
---
FEATURES TO LOOK FOR: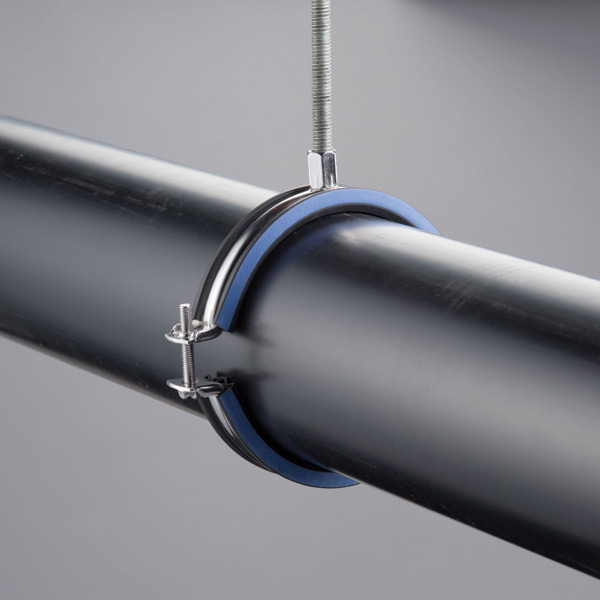 Whether the pipe is being slid through the hanger or the hanger is being disassembled, two main features of pipe clamps can help limit rework:
1. Rubber return lip: The rubber is similar among many manufacturers' offerings, but the way it is attached to the hanger can make a big difference in the amount of rework required. If the rubber simply wraps around the metal, it may not remain secure when pipe is being installed. The friction of the rubber on the pipe can twist the lining off the hanger. Additionally, it is not uncommon for the rubber to fall off during transportation. Installers then need to reposition the rubber, wasting valuable minutes, which can significantly add up when installing hundreds or thousands on a job. The return lip holds the rubber more securely and ensures it remains in place when the pipe is being slid through.
2. Plastic washers: The installer must manage several simultaneous tasks when disassembling the hanger, all while elevated on a lift or ladder. Balancing the pipe, unscrewing the hanger, positioning the pipe and reassembling the hanger are a lot of steps to manage with only two hands. Proper installation is nearly impossible if the screw does not stay in place. When the hanger is opened, the washer on the screw needs to keep it attached to the rest of the hanger. Some products use paper or cardboard washers that can easily fall apart, especially in wet environments. Ideally, pipe clamps should have a robust plastic washer that fits closely to the screw to prevent it from falling out.
CONCLUSION:
Although many rubber-lined pipe clamps appear identical, they often require different methods of installation. Inexpensive hangers may extend installation time due to required rework.
Try a better option. Click below to request a free sample of a rubber-lined pipe clamp that incorporates both a rubber return lip and plastic washers.
---