---
TELESCOPING STRUT REPLACEMENT:
The Telescoping Strut Replacement is an innovative alternative to using strut-based trapeze or support structures and accommodates standard strut-based fittings. This tool-free solution eliminates the need to handle long lengths of strut and cut sections of strut to size. The bracket telescopes to the desired length, attaches to threaded rod, and is locked in place by snapping closed a spring steel retainer.
---
TSR1220/3050 Creates More Precise Trapezes:
The telescoping feature of the TSR1220/3050 allows for a much more precise placement of the hardware that attaches to the threaded rods.
Looking at a piece of strut, there are distinct places where the threaded rod can pass through. The space between the holes cannot be interfered with for the sake of the integrity of the strut. If the limitations of an environment require a piece of strut to be cut to a very specific length, there is no guarantee that that piece of strut will have holes to accept the hardware at that point.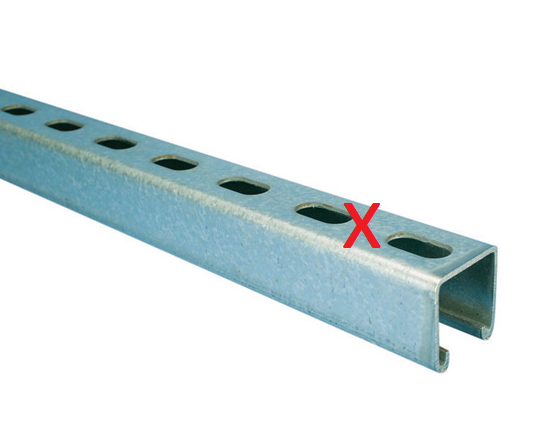 Regardless of precision when cutting strut, threaded rod could not be placed on the red "X" above.
Additionally, when cutting multiple pieces of strut to a specific length, the holes may end up in different locations even if the strut is always cut to the same length, because the scale of the hole spacing is not necessarily the same as the needed distance between cuts.
The TSR1220/3050 completely eliminates this problem. Each individual TSR1220/3050 can be extended to almost any exact length within its range and attach to the threaded rod where it is required, adding an extra level of precision to any project.
---
CONCLUSION:
The Telescoping Strut Replacement is an innovative time-saving alternative to strut. Learn more about the product by clicking the button below:
---