Shot-fire brackets are an innovative way to allow installers to attach drop rods and fasteners directly to a concrete structure. However, with so many different shot-fire bracket installation tools on the market, they must be sized to be installed with a variety of tools. Not only do nVent CADDY Shot-Fire Drop Rods enable tool standardization, but they offer other important benefits as well.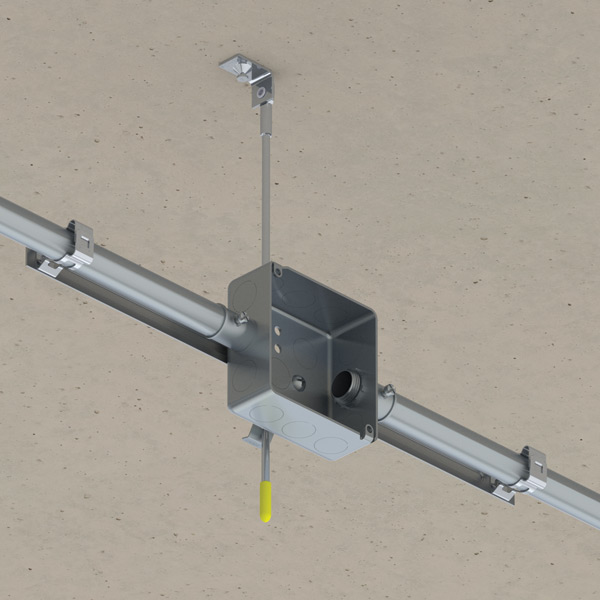 ---
BENEFITS OF SHOT-FIRE BRACKETS
1. Reduces Damage to Rods
When installing shot-fire drop rods, a longer bracket allows for space to fit the installation tool around the pin without hitting the rod. In previous versions, the pin on the bracket was close to the drop rod, creating the opportunity for damage. The updated product works with most standard nVent CADDY spring steel fasteners designed for rod attachments.
2. Tool Standardization
Not all contractors use the same tools for installation of drop rods and fasteners. To address these inconsistencies, nVent CADDY created a longer product version. The longer shot-fire bracket can be used with a variety of tools, including powder-actuated or single-shot gas-actuated tools, providing a solution to previous problems from tight space restrictions.
3. Same High Quality
While the product has been updated to meet industry demands, the quality hasn't changed. The same research and testing supported this product, upholding the high standard of nVent CADDY.
4. Ease of Install
Shot-fire brackets are quick and easy to attach to concrete, steel or composite metal decking, and the rigid rod does not require secondary attachment to ceiling grid. The brackets also include a pre-assembled end-cap, and the rods are available directly out of the box.
---
CONCLUSION:
The new exclusive, longer bracket on the nVent CADDY Shot-Fire Drop Rods can help eliminate damage to the rod during installation. Learn more about ways it can reduce challenges by clicking below.