---
TELESCOPING STRUT REPLACEMENT:
The Telescoping Strut Replacement is an innovative alternative to using strut-based trapeze or support structures and accommodates standard strut-based fittings. This tool-free solution eliminates the need to handle long lengths of strut and cut sections of strut to size. The bracket telescopes to the desired length, attaches to threaded rod, and is locked in place by snapping closed a spring retainer.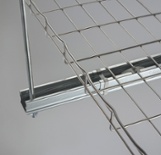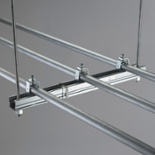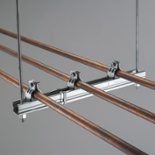 ---
TASKS NO LONGER NECESSARY:
The TSR1220/3050 is designed to be easier to install than strut because it eliminates the need for several difficult and time consuming tasks necessary when using strut. The TSR1220/3050 is designed to accomplish the same tasks as strut between 12.5″ and 20″ (318-508 mm) without requiring contractors to:
1. Transport Long Pieces of Strut
Strut is typically purchased in long 10′ pieces that are difficult to handle and transport to a jobsite. Because the TSR is precut and compact, it is delivered in manageable pieces that are easily transported, moved, and stored.
2. Measure Strut
The TSR1220 has an integrated ruler stamped on the bottom of the part for quick imperial and metric measurements. Contractors no longer have to spend time measuring pieces of strut. Additionally, it is more flexible to changes in measurements. If parts need to be moved, the TSR1220 can easily accommodate.
3. Cut Strut
The TSR1220 telescopes to any size between 12.5" (318 mm) to 20" (508 mm). This completely eliminates the need to cut large pieces of strut to the needed length, saving contractor time and limiting the use of tools.
---
CONCLUSION:
The Telescoping Strut Replacement is an innovative time-saving alternative to strut. Learn more about the product by clicking the button below:
---