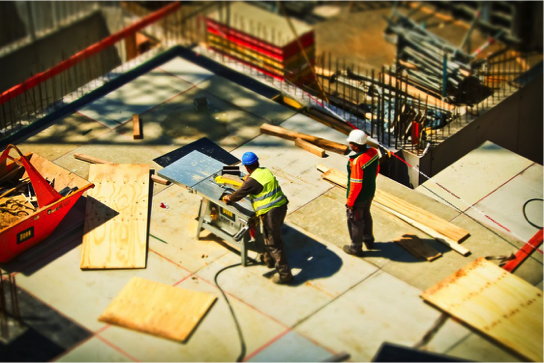 Material management is a critical system to all businesses, especially commercial construction. According to Foundry Magazine, inventory and materials represent on average 15% of a business's total firm asset. And improper management leads to costly consequences.
The goal of material management is to efficiently plan, purchase, procure and distribute all resources needed for a construction project. When properly implemented, material management ensures all construction components are available without the threat of an out-of-stock item that could cause delays or harm to the budget.
Materials represent a major cost in construction. Poor planning can result in project delays and increased costs. Read on to learn how to keep your budgets on track with these effective material management tips.
1. Invest in Quality Products
As you budget for your construction projects, consider the quality of the material you're purchasing from your supplier. Unreliable materials can result in more maintenance, which in turn results in more time and money spent on replacing poor quality materials.
High quality materials may be expensive at first, but they help you avoid labor costs in the future. Additionally, products that offer simple installation can save commercial construction projects time and money on future labor costs. Plus, these types of products require fewer materials to install, leading to more effective material management.
2. Keep Accurate Inventory
For commercial construction distributors, a primary goal is to track all inventory to ensure orders are accurate. Without an accurate measure of inventory, distributors will not know what supplies to purchase, or may attempt to fulfill an order that contains out-of-stock materials. This can result in delays because of a shortage of materials, as well as unneeded increases to the budget from ordering supplies they already have in stock.
Distributors often utilize Stock Keeping Units (SKU) to track inventory. An SKU is a series of numbers that identify the price, product options and manufacturer of the merchandise.
To improve the SKU process and eliminate the time needed to scan and organize SKUs, distributors should look for products that help with SKU consolidation. For example, CADDY products lead to SKU consolidation and better material management because of their all-in-one qualities. CADDY's all-in-one electrical assemblies combine the electrical box, support bracket, mud ring, far-side support and ground wire pigtail into a single solution that is ready to use right out of the box. This means fewer products in the distribution warehouse, which leads to fewer wasted costs on products that aren't selling and taking up space in the warehouse.
Whether you're a contractor or distributor, accurately keeping track of your inventory greatly improves your material management.
3. Communicate With the Entire Team
Communication is key for successful material management due to the many parties involved in the commercial construction process.
For instance, material managers need to regularly communicate with procurement managers, transportation directors, strategic sourcing consultants, production mangers and vendors to meet their goals, timeline and project budgets. If communication is lost, then budgets fall off track and the entire project may experience delays and overspending. Discuss product quality, inventory levels and purchase processes to maintain a solid material management process.
All-In-One Solutions for Effective Material Management
Take the stress out of the material management process with CADDY's all-in-one solutions. CADDY products provide solutions that eliminate the need for extra materials, ultimately saving money during the material management process. CADDY products feature:
Complete assembly that is ready to use right out of the box.
Unique designs that provide easier installation.
Stocked inventory, so materials are available when you need it.
To learn even more about CADDY products, visit our products page, or subscribe to our blog for the latest news and trends in the commercial construction industry.
Image credit: Pexels