Why Choose J-Hooks Over Cable Tray?
The principal functions of a cabling pathway include:
Guidance – get the cables from point A to point B, preferably via an efficient route
Support – ensure that the cables on the pathway are not over-stressed, exceeding the appropriate bend radius, pinched or otherwise being mistreated
Containment – keep the cables and bundles within the path despite any environmental disruptions
OK, so hanging your coat is not a principle function, but it is a side benefit of having a few spare nVent CADDY J-Hooks around.  There are a few other benefits of using a non-continuous support instead of traditional cable tray: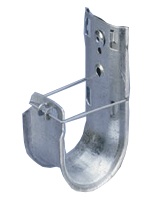 Simple Handling – The two nVent CADDY Cat HP J-Hook Tree assemblies that Rick shows at the beginning of the video are approximately equivalent to a 6″x20″x10′ (160x600x3000mm) piece of basket tray. This means there is way less material to carry on and off the job site, fewer trips to and from the truck, up and down the elevator, and so on.
Fast and Easy to Install – One person can install J-Hooks, but because cable tray is so cumbersome, the installation usually requires two or more people. Additionally, J-Hools provide a much faster installation compared to conventional cable or ladder tray. nVent CADDY Cat HP J-Hook Assemblies are available with a variety of structural attachments already in place to minimize work in the field.
Versatile Solution – J-Hooks provide the ultimate pathway versatility.  Changing direction or elevation with cable tray means measuring, cutting, and installing special fittings or connections.  With J-Hooks there are no extra components to install and no need for special tools or fittings. J-Hooks allow for easy, no-cost directional and level changes.
DID YOU KNOW?
CADDY engineers filed the first patent for the J-Hook as a non-continuous cable support back in 1996.