Speed Link Trapeze Kit
The nVent CADDY Speed Link Trapeze Kit (TSR1220SLS3) is an innovative solution for light- and medium-duty, strut-based installations. The TSR1220SLS3 combines the time-saving benefits of the Telescoping Strut Replacement (TSR1220N) with the Speed Link SLS3 locking device.
Both parts are designed for a quick and easy installation. The TSR1220N can be extended to any length between 12.5 inches and 20 inches [318 mm and 508 mm]. Speed Link is a tool-free, user-friendly alternative to threaded rod and attaches to the TSR and structure. Aside from installing more quickly, the Speed Link Trapeze Kit offers additional benefits to the installer, including:
---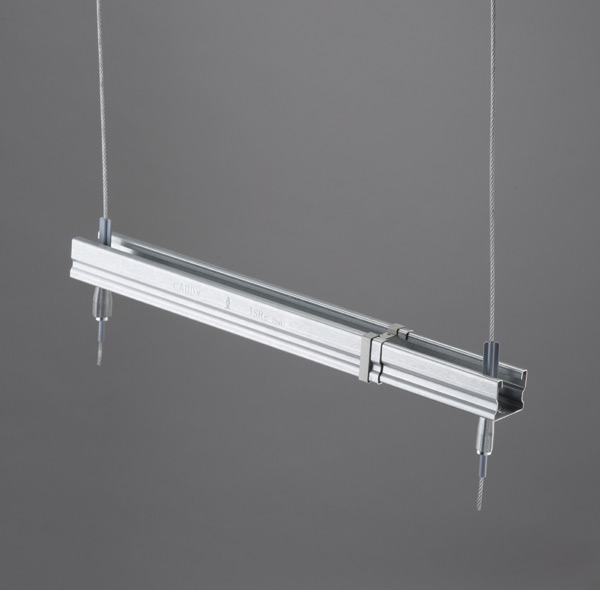 1. Easier Transportation
Strut and threaded rod are very heavy and spatially inefficient. Strut is usually shipped in 10 feet [3 m] sections that can be difficult to transport, store and move around the job site. The Telescoping Strut Replacement is pre-cut and can telescope to the needed length between 12.5 inches and 20 inches.
When used for light- and medium-duty installations, the heftiness of the threaded rod is inconvenient and unnecessary for such an installation where wire rope, like that in the Speed Link system, would be sufficient. The wire rope has a greater strength-to-weight ratio and is a more efficient use of material.
2. Adaptability
Strut and threaded rod must be cut to a specific length for a trapeze. Done in advance, the cuts must be precise. If changes are needed on the job site, new materials need to be cut. Every part of the TSR1220SLS3 is designed to easily adapt.
The TSR can extend or contract to any spacing between 12.5 inches and 20 inches [318 mm and 508 mm] and snapped in place with a spring steel retaining strap. If adjustments are needed, the retainer strap simply needs to be popped open with a screwdriver and reengaged at the desired length.
The hook end fitting on the nVent CADDY Speed Link wire quickly can be attached to most conventional structural components. If needed, the wire rope easily can be cut to the needed length with wire cutters.
---
CONCLUSION:
The Speed Link Trapeze Kit combines two products to make trapeze installations quicker and easier. Click below to learn more about how it can help in your next project.
---