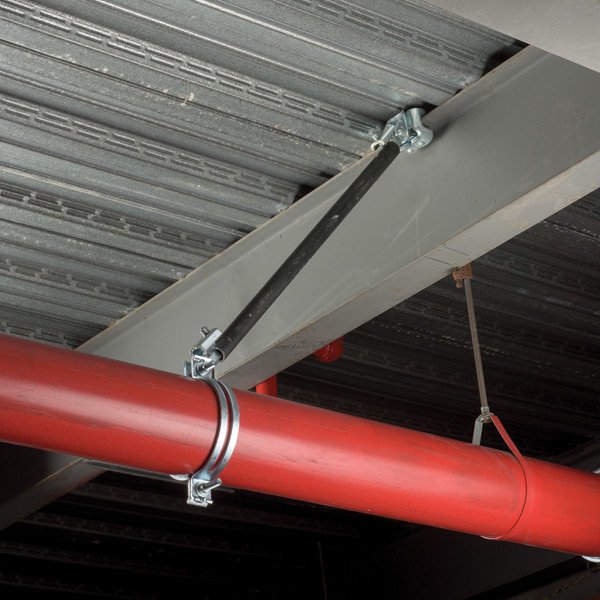 Buildings can be safeguarded from damages of earthquakes—and subsequent days of downtime and unsafe conditions for tenants—through approved installation of seismic bracing. To aid in this, nVent CADDY offers cable bracing and recently launched rigid bracing for the mechanical, electrical and plumbing (MEP) service market.
The MEP rigid bracing products include offerings for trapezes and equipment, including structural attachments, sway braces, the nVent CADDY Lateral Telescoping Brace Assembly and accessories. The nVent CADDY Rigid Bracing system supports both lateral and longitudinal bracing. nVent CADDY has a team ready to assist and offer expert design and engineering resources, installation guidance and final inspection support.
Quick, Easy Install
The entire range of seismic products are designed to reduce steps needed for installation. Features like bolt head standardization remove any tool changes during installation, and snap-off bolt heads provide a simple-to-mount and easy-to-inspect connection. Sway brace clamps for both pipe and strut trapeze come out of the box ready to install without the need to remove hardware first or purchase supplementary components.
For the maximum in labor savings, the Telescoping Brace Assembly eliminates the need to measure and cut brace pipe, minimizing waste and allowing one person to effectively install a lateral sway brace. Since products can accommodate multiple rod sizes, fewer SKUs may be used on multiple projects, reducing inventory.
Retrofit Installation
The retrofit ability allows for braces and spacers to be installed after the pipe or trapeze assembly is installed, without disassembling existing services. The trapeze brace component can be used with several brace member types, rigid pipe, conduit and strut, and the adjustable design can be used with different brace pipe sizes.
Easy Inspection
Installations can be easily inspected with the use of nVent CADDY's shear-off heads, which show the bolts have been installed properly. nVent CADDY's Rigid Bracing System is cULus® Listed, FM® Approved and is OSHPD® Pre-Approved (OPM-0062-13) to the 2013 California Building Code.
From design to inspection, nVent CADDY offers a complete solution for your seismic bracing needs. View the full catalog of nVent CADDY Seismic Bracing products.